Amanda and Yemi met through mutual friends. The two were introduced by Yemi's cousin and Amanda's friend Francesca. "One Sunday morning in June 2014 my sister and I were getting ready for church when she told me that Francesca wanted to set me up with her cousin. She showed me photos and although I thought he was handsome I laughed it off, and carried on getting ready. As we drove to church I just had this nagging feeling that I had to give him a chance, so when Francesca asked what my response was… I said okay," recalled Amanda. Phone numbers were exchanged shortly after Amanda agreed to be hooked up with Yemi. The two talked on the phone and texted for about a week, but Amanda began to feel that Yemi wasn't really interested. "The following Sunday he randomly called me and asked if we could meet for lunch. I was at a friend's house so I said maybe another time. He was quite insistent on meeting up and as it was a rare hot, sunny day in London I thought why not. It ended up being the best first date I have ever been on. We talked about everything from our faith, family, music and future plans. I went home knowing that I had met someone very special," said Amanda. Check out their royal blue and mint green themed wedding, captured by T.Philips Photography.
Bride: Amanda Idehen, 29, Television programming
Groom: Yemi Akiwumi, 29, Compliance Analyst
Place of residence: London, UK
Wedding date: 8/15/14
Wedding location: Essex, UK
Wedding theme: Royal blue and mint green
Honeymoon Destination: Naxos Island, Greece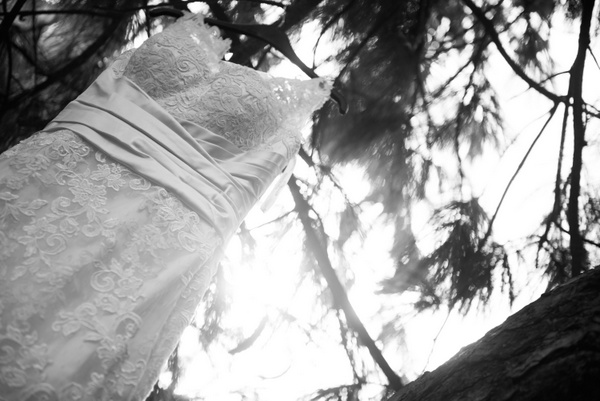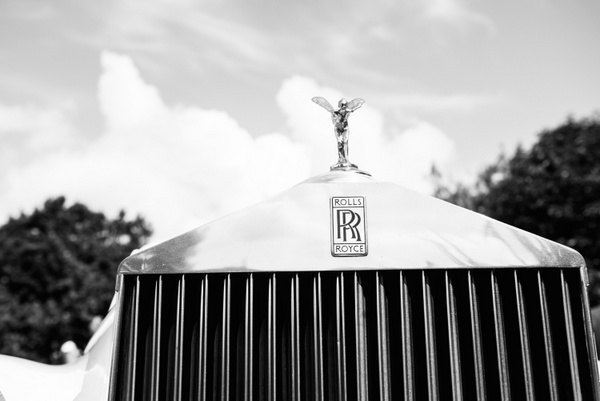 Engagement story:
While dating we would often have a special dinner on the 30th to mark our monthly anniversary. This particular month it was Yemi's turn to arrange everything. He took me to a Thai restaurant in Chelsea, by the river. He was constantly on his phone throughout, which began to annoy me. He does usually spend a lot of time on his phone but this was more than usual. When I asked about it, he said 'someone was asking for his advice on something'. After dinner he suggested that we go upstairs as the restaurant had a great view. But when the restaurant manager came over and started making jokes and offered to take us on a tour, I knew something else was going on. We got upstairs and my family and friends were all waiting in a private room and began cheering. I froze on the spot and couldn't even walk as I knew what was coming. He got on one knee and asked me to marry him.
From the Groom:
It was an exhilarating day, what can I say. At the ceremony, seeing my wife walk down the aisle and exchanging our vows it seemed so unreal. Everything we had planned for and spoken about had now become a reality. My wife looked absolutely beautiful. The praise and worship was amazing and the sermon was on point. The day went so fast. The reception was good, but some nerves kicked in during two speeches. The best man's and mine! The speeches went well in the end and the nerves dissipated allowing me to enjoy the rest of the evening. Interestingly, throughout the whole day it didn't fully dawn on me that I was taking on a huge responsibility as a husband. A great responsibility and a blessing which I am thankful to God for.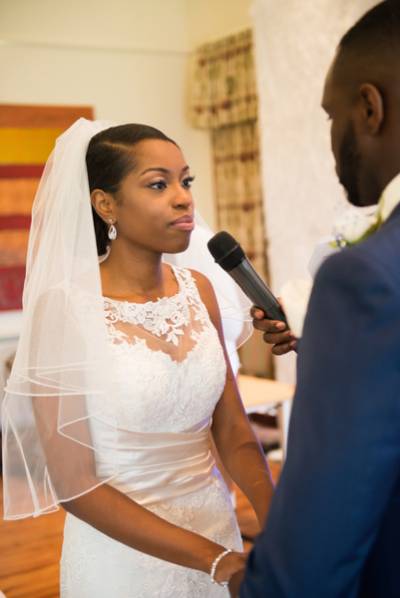 From the Bride:
During wedding prep I was so calm my hair and make-up all went as planned and we left the hotel on time. I thought I would be so nervous, but it still didn't quite seem real to me. When I stood at the ceremony room door it suddenly hit me that my whole life was about to change. I couldn't stop crying I was actually shaking. Even as I walked down the aisle the tears were still running down my face. The whole day was amazing, hectic but amazing. Getting to see all of our ideas and plans come to life was so rewarding. By the end of the day after all the dancing I was exhausted. We had so much fun all the stress, money spent and sleepless nights during the planning stage were so worth it in the end.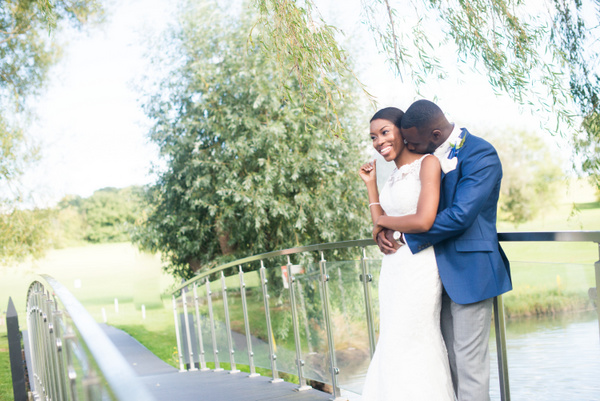 What makes your love special?
I think firstly the love and respect we have for God makes our love for each other even stronger. We both believe that love is a choice not just an emotion. We have chosen to love each other for the rest of our lives despite how we may feel along the way, we will make it work.
Wedding song:
Picking wedding songs was quite easy for us. Yemi suggested 'You For Me' by Johnny Gill which I loved immediately, so we chose that for the bridal party to walk to. I knew straight away what I wanted to walk to 'I belong to You' by William McDowell. It's a beautiful worship song I liked it because it's talking about belonging to God, but listening to the lyrics it could also be about belonging to my new husband now.
The couples best and most memorable moments:
Amanda: My best moment was a performance by Yemi's friend Adenike. He had asked her to sing one of my favorite songs 'I found Love' by Bebe & Cece Winans. Yemi had re-written all the words himself to personalize it for me! It was such a sweet surprise.
Yemi: It has to be when my wife walked down the aisle shedding tears. I still remember it till this day and cherish her all the more for it.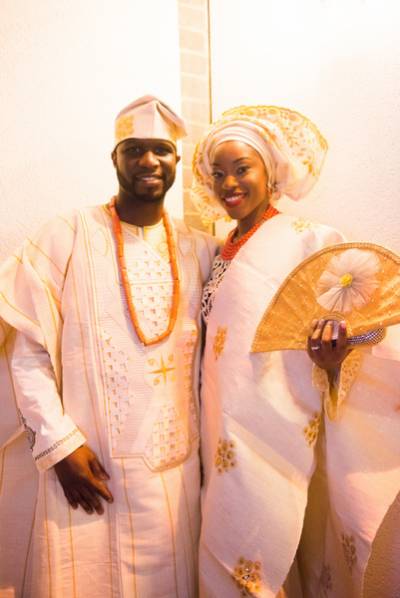 What are you most looking forward to as a married couple?
Living together, and getting to see each other every day. Growing as a couple and eventually having a family of our own.
Advice for a Bride/Groom on their wedding day:
Pray! Leave everything in God's hands and then just relax and enjoy every moment of your day. You spend so long planning and then the day goes by so fast. Also if you can afford to, get a wedding coordinator for the day. That way you won't need to worry about things not going to plan or running behind schedule.
Congrats to the newlyweds Amanda and Yemi! We wish you many more years of wedded bliss!
Vendors:
Photographer: T.Philips Photography
Ceremony and reception location: Three Rivers Country Club, Essex
Bridal Gown Designer – Justin Alexander, from London Bride UK
Bridal party attire:
Bridesmaids dresses by Moda Dee Bridals
Grooms men's suits: Marks and Spencer
Ties made by Andrew McCormack
Groom's tux:
The suit was designed by the groom at Austin Reed
Cake: Q Cakes
Favors: Customized pens, notepads and key rings with our photo on.
Bible scriptures printed on mini scrolls tied with ribbons for each guest.
Wedding planners: Honey Lily Events
Music: DJ MRI
Hair: Hair 2 the Throne
Makeup: NikeAce Makeovers
Flowers: Gayle force floristry
Curated by our Wedding Features Editor, C.K. Alexander. C.K. is the owner and founder of Love Ink and Brownstone Bridal. Keep up with C.K. on Twitter here: @Love_Ink