In 2011, Brittany and Ajay met on an online dating site. Sparks flew and the couple have been together ever since! Eight years later, they tied the knot in a beautiful ceremony at the Chateau Elan Winery and Resort in Braselton, Georgia. Share in the joy of their gorgeous affair captured by Cherise Richards Photography.
Bride: Brittany Chantel Grey, 32, Non-Profit Consultant & Social Entrepreneur
Groom: Ajay Yadav, 32, CEO
Photography by: Cherise Richards Photography
Place of residence: Brooklyn, New York
Wedding date: September 28, 2019
Wedding location: Chateau Elan Winery & Resort
Wedding theme/motif/inspiration: Boho Chic/ Secret Garden
Honeymoon Destination: Maldives
Engagement story:
We were in Los Angles to celebrate New Year 2018 with friends and Ajay surprised me a few days before by having a friend of mine convince me to go to a day party in Malibu. She told me we were stopping at a restaurant to meet some other people before we went to the party, which was right on the beach where Ajay was there waiting for me, with a beautiful set up. But the biggest surprise was actually yet to come. He'd flown all my immediate family there to celebrate with us, My Dad, Mom, Stepmom, four siblings, and best friend. After he popped the question and I said yes, they came running down which obviously made me a crying mess.
What makes your love special?
What makes our love special is our ability to embrace and celebrate one another's differences (like our cultures, our work, world views, etc) while using those differences to learn and grow with one another.
From the Bride:
I was really anxious on my wedding day, not really for the actual nuptials but anticipating if everything would go as planned. For the most part everything did. There are only a few things I look back on and wish I would've done differently. The day turned out beautifully and most of our family and friends say it was the most fun they've had in a long time and this was super important to us.
From the Groom:
I was excited yet nervous at the same time. For a moment it felt like a dream until she walked down that aisle. It was one of the best experiences of my life to celebrate life with someone who's going to be a partner for life.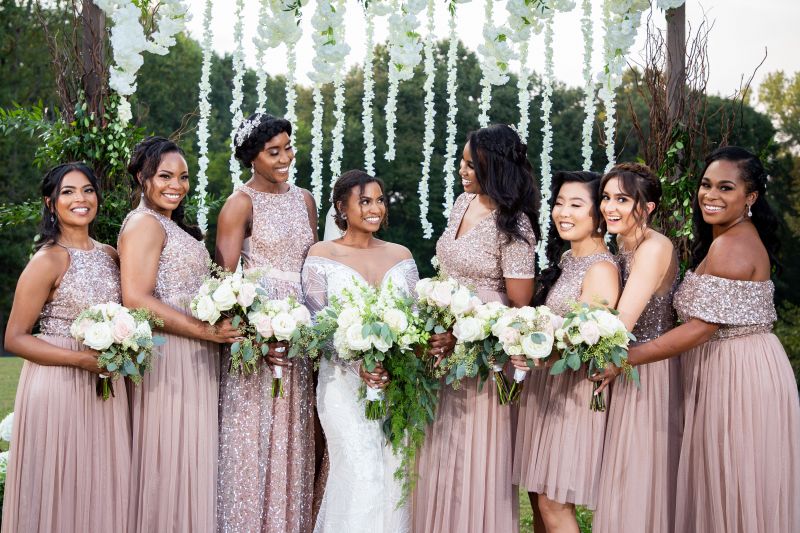 Your best/most memorable moment:
My younger brother giving a speech about the evolution of my dating life. And subsequently leading the entire venue to join in a chorus of " No scrubs" by TLC.
Wedding song, explain choice for song:
"Perfect" by Ed Sheeran and Beyonce- We both loved this song because it talk about finding the perfect love for you. It may not be perfect for everyone, others may not understand it but it is perfect just for you two.
Favorite wedding detail:
Our favorite wedding detail was our altar created by Utopian Events. It was beautiful and just want I wanted to give the chic garden vibe I was hoping for.
What are you most looking forward to as a married couple?
I'm looking forward to starting a family and growing together spiritually, emotionally, and financially; passing down a feeling of wholeness and happiness to our children as well as a legacy of greatness.
Advice for a Bride/Groom on their wedding day:
My advice would be to drink! Get drunk (not too drunk!), but have fun, and forget the worries of the day. Do whatever gets you out of your head. I was a lot more tense and aware than I would've like to have been and I feel a few drinks or two would've helped with that. Still, it was an absolutely amazing day.
Congratulations to the happy couple! We wish you a fruitful marriage and many years of wedded bliss!
Sources
Cherise Richards|Fatima Hall FLH Event Planning|Chateau Elan|Milla Nova|ASOS|The Black Tux|Etoile Salon LLC|Cinmi Beauty|Utopian Events|Minted