One of the most important parts of wedding planning is choosing the right venue. With thousands of venues to choose from, a couple can get lost in options and left feeling overwhelmed. We recently happened upon a new event space nestled in the heart of downtown Washington, DC, The Loft at 600 F. This quaint venue features exposed brick, hard wood floors and classic industrial elements, that makes it perfect for the couple who is seeking a non-traditional, modern venue, with lots of character. This venue also features a very cool bar in the basement (densondc.com). Best of all, The Loft at 600 F has a great staff who will help you create the perfect wedding experience from start to finish. We had a chance to chat with Wyatt Hull, one of the event managers at the Loft at 600 F, about all the great features this space has to offer and how you can plan everything from your engagement party to your wedding all at the Loft at 600 F!
Full Name: Wyatt Hull
Name of your business: The Loft at 600 F
How long have you been in the industry? 10 years
Specialty: Venue Management/ Photography
About Wyatt: As a wedding photographer I've loved spending the entire day with a bride and groom. Over the last 10 years I've observed how venues present both obstacles and solutions for weddings and ceremonies. In renting out our beautiful historic building, we offer a chic, industrial space that is comfortable and relaxed. Modern, non-traditional and more personal weddings are a perfect fit for our unique venue.
Tell us about holding a ceremony and/or reception in The Loft at 600 F; What kind of wedding services does The Loft at 600 F offer?
What's included in the most popular wedding package?
Most often couples will book two of our three floors on a Saturday evening from 4pm to midnight.
How many people does The Loft at 600 F serve/fit?
Ceremonies up to 120 are a perfect fit. Receptions across multiple floors can entertain up to 200.
What do you think is the best feature of The Loft at 600 F?
Big windows with natural light, exposed brick, and hardwood original floors. It's a New York loft feel mixed with a west coast attitude, nestled in the heart of DC. You can step off the Metro and walk into the space without adding any decorations and have a beautiful, intimate affair.
How do you help couples customize their wedding experience?
We focus on providing concierge level services as a venue. Our goal is to be a perfect space for your wedding, and are happy to recommend layouts and refer couples to designers and planners who can help them customize the space.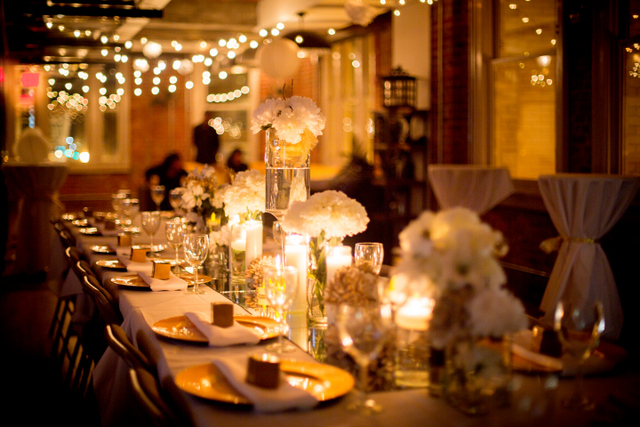 How should a couple prepare before a consultation with a venue?
The best prepared couples have thought through the specific questions they want to ask all the venues they're exploring to allow them to compare them apples-to-apples. We hear all the time that since we have such an extensive approved caterer list, allow for couples to supply their own alcohol, and are able to support late end times with minimal sound limitations, that we stand out from all the other more restrictive venues.
What are the most common mistakes that couples make when booking a venue?
We always encourage our couples to hire a planner, even if just for day-of coordination. We also spend extra attention to ensure that vendors are scheduled to arrive when the venue is available. It's often the first time a couple is attending to many of these details – and working with a professional planner allows you to focus on what truly matters: your family, friends, and the wonderful emotional journey of the day.
What are some key questions that couples should ask before booking a venue?
Caterers. Sound restrictions. Time for setup and breakdown. Parking. Public transit access. Nearby hotels within walking distance. Cleanup requirements. Liquor and insurance requirements. Decoration restrictions. Ceremony to reception flow.
How far in advance should couples book The Loft at 600 F?
We still have some of our wedding booking within 3 months, especially for more casual affairs on Fridays, but typically a minimum of 6-9 months in advance is a good game plan.
Do you assist with selecting vendors? How should a couple go about sourcing vendors?
Vendors will make or break a wedding experience. While we have an extensive list of approved caterers for example (we like to accommodate when couples have specific requests), there are definitely those who stand well above the rest in professionalism and going above the call of duty to ensure a *happy* wedding (word choice).
Will the onsite wedding coordinator take care of all of the planning and production or should couples hire their own planner?
Regardless of venue, it is always a good idea to have an individual who has no responsibilities other than ensuring the wedding runs smoothly.
What other kinds of events can the The Loft at 600 F accommodate?
Bridal showers, rehearsal dinners, post-wedding brunches. Longer term – baby showers and birthday parties are a great fit too.
What time of year is the best time to plan a wedding?
April-May and October are the most beautiful times of year in DC. January and February is less busy, but the space is great all year round.
How is The Loft at 600 F different from other wedding venues?
Unlike most hotels we don't have a preferred vendor list – we usually are able to work with any caterers and other outside vendors. The space itself is also one of the most unique spaces in DC and a hidden gem located in the heart of downtown. The two things I always hear guests say: "Where did you find this place?!" and "I want to live here!"
Want to know more about this venue? Be sure to visit the Loft at 600 F online at www.theloftat600f.com and follow them on social media @TheLoftat600F!