For D'Auria and Jonathan, they never dreamed that a brief meeting at a house party in 2013, would lead to finding love. They were both in the band at their respective HBCUs, Jonathan at North Carolina A&T and D'Auria at Howard, so they had many mutual friends already. Jonathan returned home after his Air Force service, and D'Auria, who had recently moved to North Carolina, reached out for advice. 
In 2016, she invited Jonathan to lunch and they bonded over food, a love of HBCUs and the band, and a commitment to service in the community. When Jonathan moved to Greensboro for a new job in 2017, their relationship blossomed, and the rest is history! Get inspired by their beautiful summer wedding, captured by Summerset Studios. 
Bride: D'Auria Henry Brown, 33, Tech Marketing
Groom: Jonathan Brown, 36, Strategic Development 
Photography By: Mack Julion / Summerset Studios
Place of Residence: Washington, DC
Wedding Date: June 24, 2023
Wedding Location: The Maxwell Raleigh – Raleigh, NC
Wedding Theme/Motif/Inspiration:
Artistic Modern. We diverged from traditional norms by using vibrant wedding colors and unconventional décor choices, opting for a mixed-gender wedding party, and emphasized the fact that our union was a mutual choice rather than a traditional 'giving away.'
To create an artistic ambiance, we designed abstract floral arrangements featuring rare flowers as visual art pieces, which perfectly complemented the clean and modern venue, giving it a gallery-like atmosphere. We also integrated photography and music into the guest experience and welcomed a diverse group of talented creatives, guests, and vendors, all contributing to the overall beauty of the day.
Honeymoon Destination : Sandals, St. Lucia
Briefly tell us about your wedding experience and how the both of you felt on your big day. 
D'Auria: I couldn't wait for my family to witness the community I had created after leaving home for Howard. I was eager to see how our diverse backgrounds and experiences would come together in one place, and I hoped that the love and joy we shared with each other would shine through during the wedding.
Jonathan: It was a blend of happiness and pressure. The happiness stemmed from the sense of accomplishment, not only for us but also from the gathering of our family and friends. However, being the center of attention felt different, not necessarily nervous, but it was a unique experience knowing that everyone's eyes were on us.

Wedding song, explain choice for song: Snoh Aalegra's 'Find Someone Like You' – During the early stages of our relationship, we had a habit of exchanging songs and introducing each other to new artists. D'Auria introduced me to this particular artist. The song itself carries a blend of celebration and a sense of joyous relief of finding the one.
What are you most looking forward to as a married couple?
Going on adventures around the world and writing our own beautiful Black love story.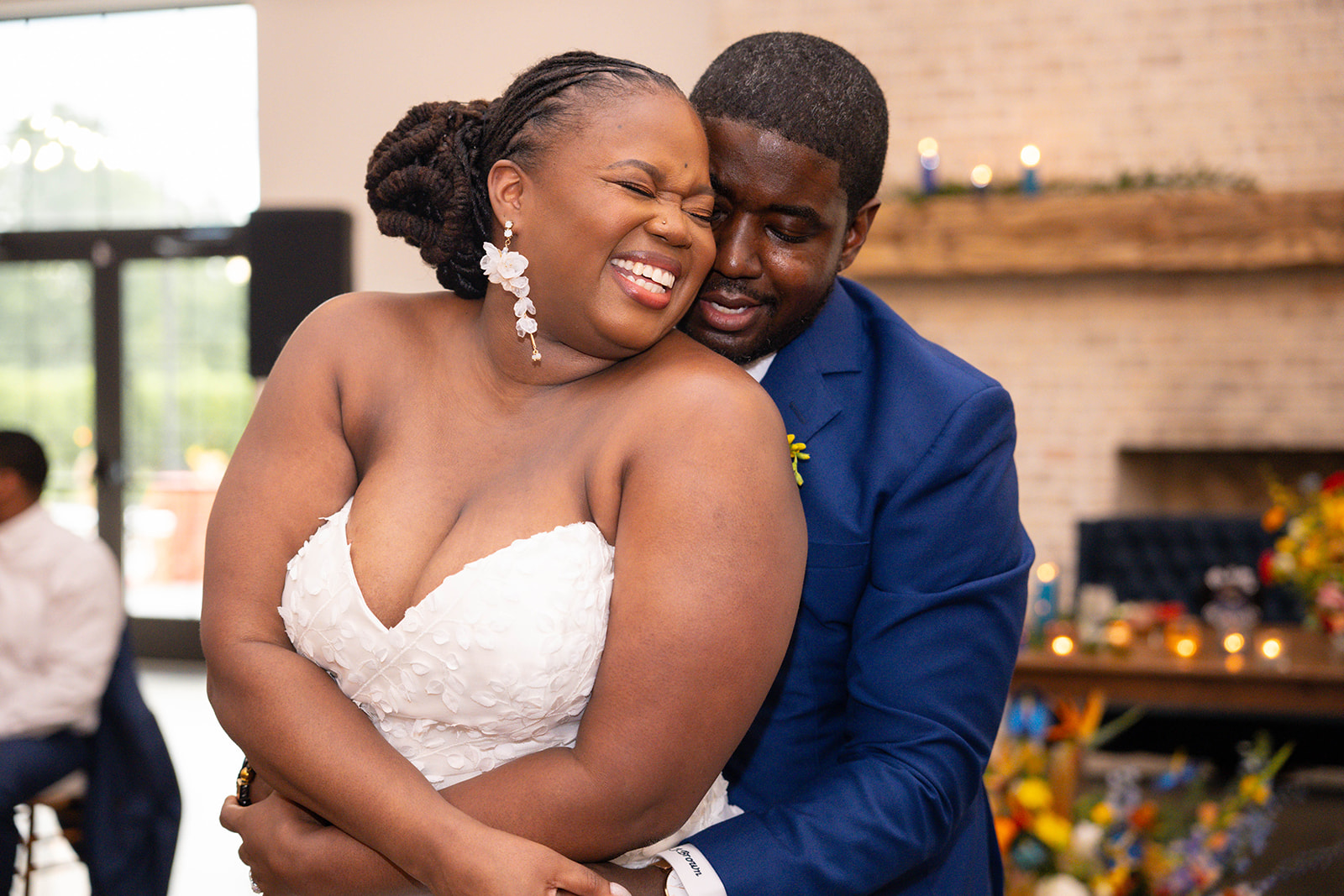 Congratulations to the happy couple! We wish them many years of wedded bliss.
Additional Event Information
We've featured the below wedding pros, but we don't know much about them yet. Featured below? Click here to get started.