When Shaira and Ricky met in April of 2019, their friends knew that they would make a great match. The two met through mutual friends three years ago and now they are preparing to become husband and wife! Get inspired by their gorgeous engagement session captured by Black Bride Bridal Suite member, DSW Photography.
Bride: Shaira Howard, 32, Registered Nurse
Groom: Ricky Grinstead, 32, Process Operator
Place of residence: New Orleans, Louisiana
Engagement shoot location: Gulfport, Mississippi
Wedding date: October 8, 2022
Engagement story (please tell us the story of your engagement proposal and your most memorable moments)
We were at a friend's house warming party. I brought my best friends outside and told them it was time and showed them the ring. I told them when I give them the signal, to play our song. We went inside and I sat next to Shaira. A beer pong ball was at my feet and when I picked it up to shoot it Shaira said, "If you can throw that ball and make it into that cup across the room you have to propose to me." She was just joking and had no idea about the proposal.
I shot the ball and it went in the cup. We both looked at each other and laughed. She couldn't believe it and I took that as confirmation. I signaled to my friends and they started playing our song ("Conversations in the Dark" by John Legend) and I asked her to dance with me. She assumed I was drunk because I never dance. We slow danced and I told her she meant the world to me and how much I loved her then, I got down on one knee and asked her to marry me. She thought I was joking until she saw the ring and then she started crying and said yes!
For the Groom: Walk us through the behind the scenes of creating this special day.
I searched for the perfect ring for about a month prior and I had looked all over but nothing fit her in my eyes. I decided to go to Jared and customize it. While it was being customized, I went to see her dad. As we were casually talking I pulled out my phone and said I wanted to show him something I wanted to get Shaira. He looked confused and said "Wait, what do you mean? What are you trying to ask me?" I responded, "May I have your blessing to marry your daughter?" He laughed and responded yes, he'd love to have me as a son-in-law.
Were there any memorable moments during the shoot?
Toasting champagne while watching such a lovely sunset. Also, Ricky driving the boat. He loves the water and loves to fish, so that was the highlight for him.
What are you most looking forward to about your wedding?
Committing to each other and professing our love before God and being surrounded by so much love and support from our closest family and friends.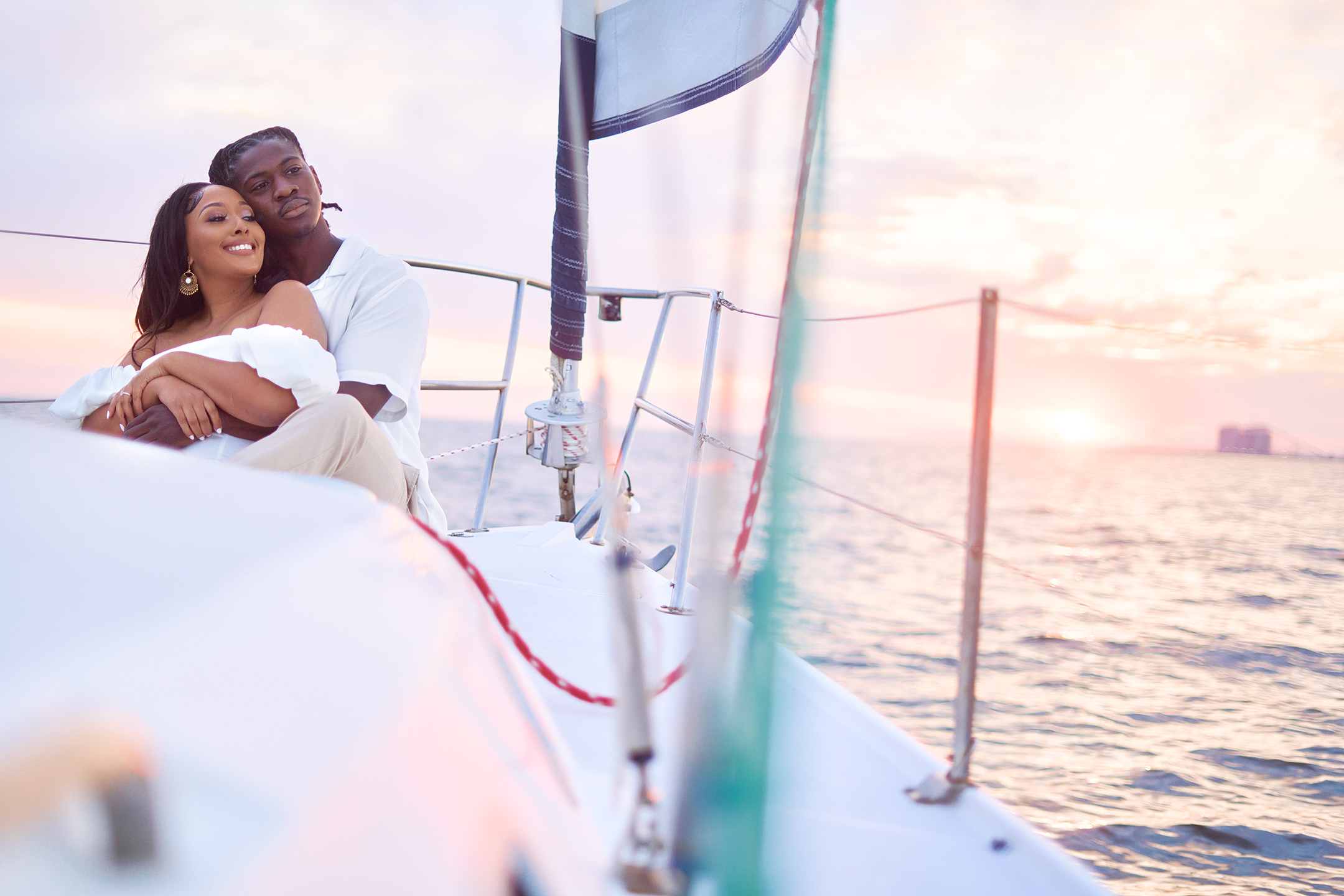 Congratulations to the happy couple! We wish them many years of wedded bliss!
Members of The Bridal Suite
We've personally reviewed each of the below wedding pros and can confidently recommend them to our readers.
DSW Photography
Photography
Additional Event Information
We've featured the below wedding pros, but we don't know much about them yet. Featured below? Click here to get started.