Vanesia and Stanley's love story began two years ago at a cybersecurity professional training institute. He was the teacher, and she was the student. They kept it professional at first, but they soon found themselves asking each other questions about life and love. After Vanesia revealed her feelings to Stanley, their relationship evolved into something magical. There were ups and downs, many long conversations, and even some storms during their three years of dating that led to their decision to soar together forever.
See more from their stunning engagement session captured by Santorini Dress and featured in the Winter 2023 Issue of Black Bride Magazine. 
Bride: Vanesia Kem, 29, Cybersecurity Professional
Groom: Stanley Wilson, 28, Cybersecurity Professional
Place of Residence: White Plains, MD
Engagement Shoot Location: Santorini, Greece
Wedding Date: November 12, 2022
Engagement Story
Stanley began preparing for the proposal in March 2022 and initiated the ring shopping process. Then he started sharing his engagement plan with his friends and family.
On July 30th, 2022, they went out to celebrate Vanesia's birthday along with their friends and family. Towards the end of the dinner, Vanesia was asked to give a speech and Stanley to follow (part of the arranged plan with my friends). During Stanley's speech, he started talking about the journey they have had so far in their relationship. Then he said, "There's no better time than now to tell you that I love you, and I'm ready to spend the rest of my life with you." Stanley popped the question, and Vanesia said,"Yes, I will marry you." They celebrated the rest of the night with their loved ones.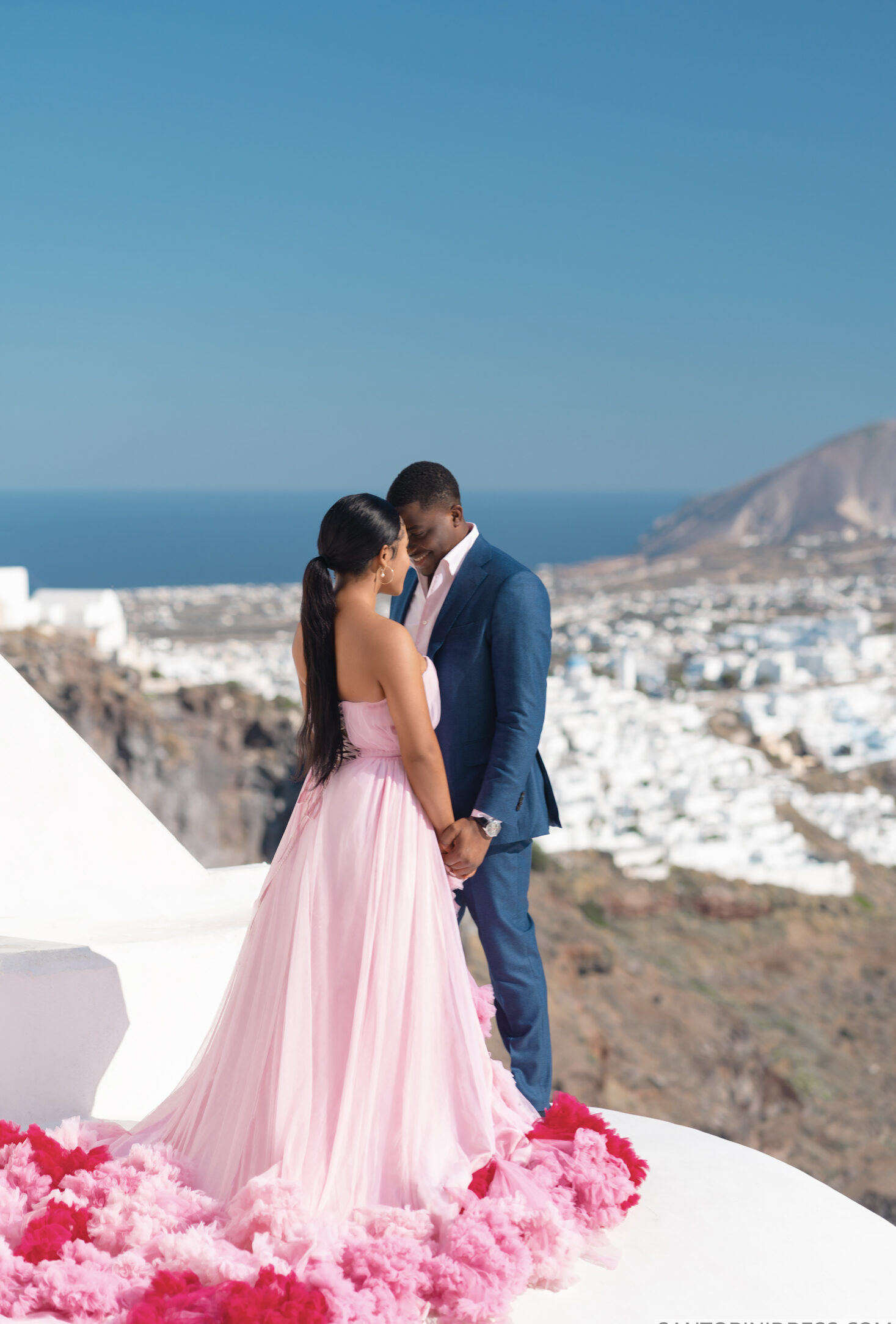 For the Groom: Walk us through the behind the scenes of creating this special day:
After deciding that it was time to take the next step in our relationship, I began ring shopping. Her mom and dad already loved and welcomed me, so I didn't want to inform them to spoil the surprise and excitement.
At the same time, I began talking with my mom, older siblings, and closest friends on what I wanted this day to look like. We all agreed on a birthday dinner at a restaurant in Baltimore, Maryland called The Bygone. We came up with a plan of asking Vanesia to give a speech, and I would follow and use that opportunity to pop the question at the end of my speech.
Were there any memorable moments during the shoot?
We've seen a lot of Santorini, Greece photoshoots and loved them. We then contacted our travel planner to book the trip and all our activities, including the Santorini Flying Dress photoshoot.
What are you most looking forward to about your wedding?
Looking forward to having the opportunity to celebrate our love with our family and friends.
Congratulations to the happy couple! We wish them many years of wedded bliss.
For more wedding inspiration, planning tips, and bridal fashion trends, get your copy of the Summer 2023 Issue of Black Bride Magazine.
Additional Event Information
We've featured the below wedding pros, but we don't know much about them yet. Featured below? Click here to get started.