Oluwaseun met Adedoyin at church in 2016, and it was love at first sight! Oluwaseun shares more about what happened when he first laid eyes on her.
"I could hear my inner mind saying, "That is your wife and mother of your kids". I took it as a joke initially, but God made it a reality. We later got close, and we started sharing the same vision. After being best friends for a while, I finally asked her to be my girlfriend in 2018. Adedoyin is a virtuous woman and I'm so happy that she chose to spend the rest of her life with me. God has proven Himself in this relationship, even when things were not working. We've passed through various storms together, but Jesus stepped in our boat, and we are enjoying the peace of God."
Read more of Adedoyin and Oluwaseun's love story and check out more from their stunning engagement session captured by Sulaemn Studio.
Bride: Adedoyin Adesida, 26
Groom: Oluwaseun Ojimi, 29, Cyber Security Engineer
Place of residence: Virginia
Engagement Shoot Location: Lincoln Memorial, Washington D.C
Wedding date: April 30th, 2022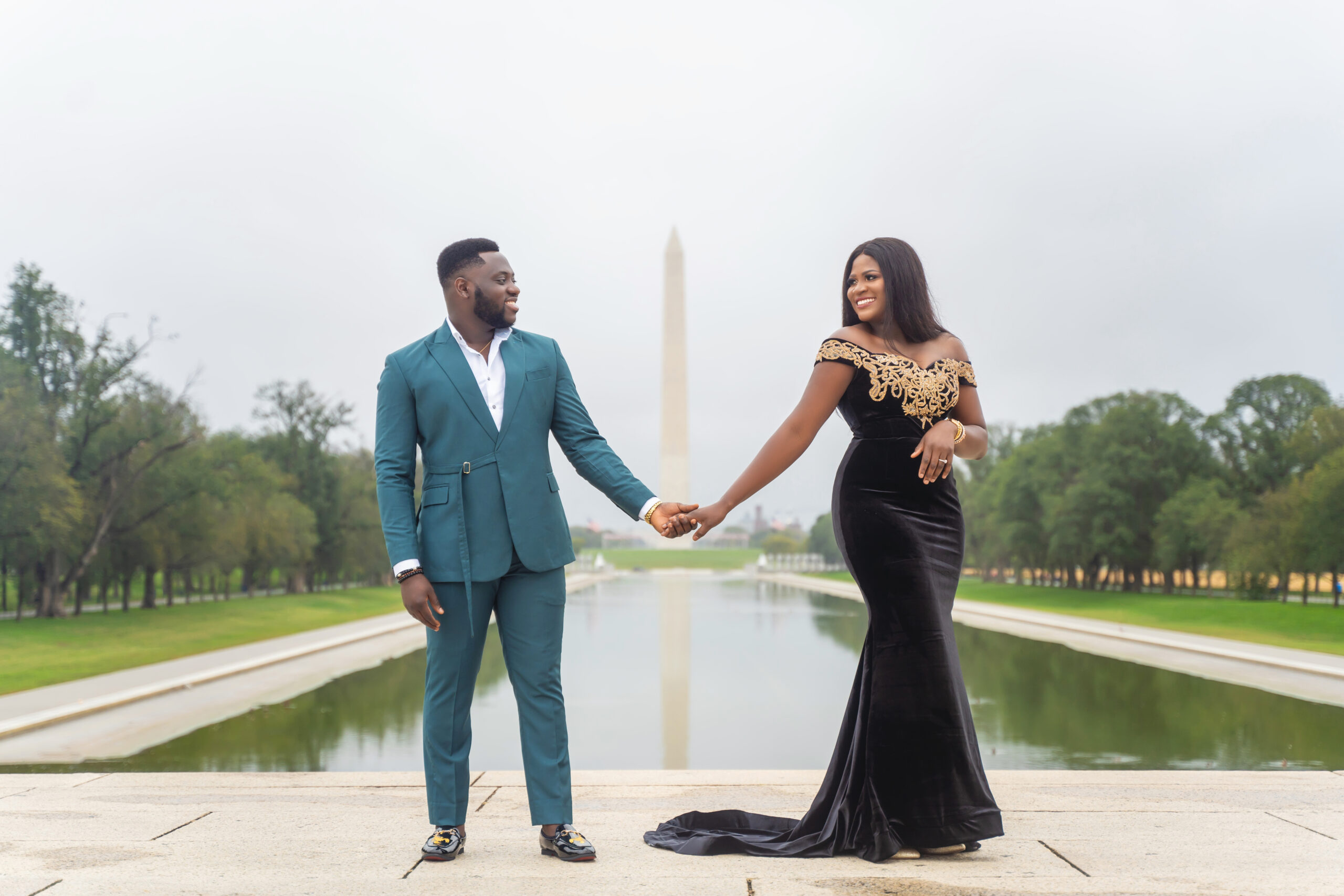 Engagement story (please tell us the story of your engagement proposal and your most memorable moments)
We got engaged around friends and family.
For the Groom: Walk us through the behind the scenes of creating this special day
I reached out to a couple of Adedoyin's friends to plan a romantic proposal; her friends found a way to bring her to the venue without her knowledge of what was about to happen. Thanks to her friends and the event planner, Adedoyin walked into a romantic atmosphere and she captured my heart right there again. She made me the happiest man on earth by accepting my proposal, and here we are today planning our wedding.
Were there any memorable moments during the shoot?
Yes, we enjoyed every moment, but the most memorable moment for us was when we had to look into each other's eyes; this took us back to when we met and it triggered an unexplainable joy within us.
What are you most looking forward to about your wedding?
We are looking forward to our first dance "Perfect" by Ed Sheeran. We have been looking forward to this day for a long time. Our wedding planner, Feyisayo Events has been amazing throughout the wedding planning process and we are looking forward to all our wedding visions coming true.
Congratulations to the happy couple! We wish them many years of wedded bliss!
Additional Event Information
We've featured the below wedding pros, but we don't know much about them yet. Featured below? Click here to get started.