In the DM's is where it all began for Jennifer and Mike. After being Instagram friends for about two years, around August of 2018, Mike asked Jennifer out on a date. The two exchanged numbers and met at a local restaurant. Jennifer was running late but made sure to call Mike to distract him from her tardiness. Luckily, he is a man of great patience although, he later told her he was five minutes from leaving! They talked for what felt like hours and moved their conversation outside once the restaurant closed for the night. The couple have been making memories and making each other laugh ever since. Check out their gorgeous engagement session captured by Sheronda Seawright Photography!
Bride: Jennifer Johnson, 37, Business Development Officer
Groom: Micheal Hunter, 43, Athletic Director
Place of residence: Washington, DC
Engagement Shoot Location: Downtown Philadelphia
Wedding date: 2/21/21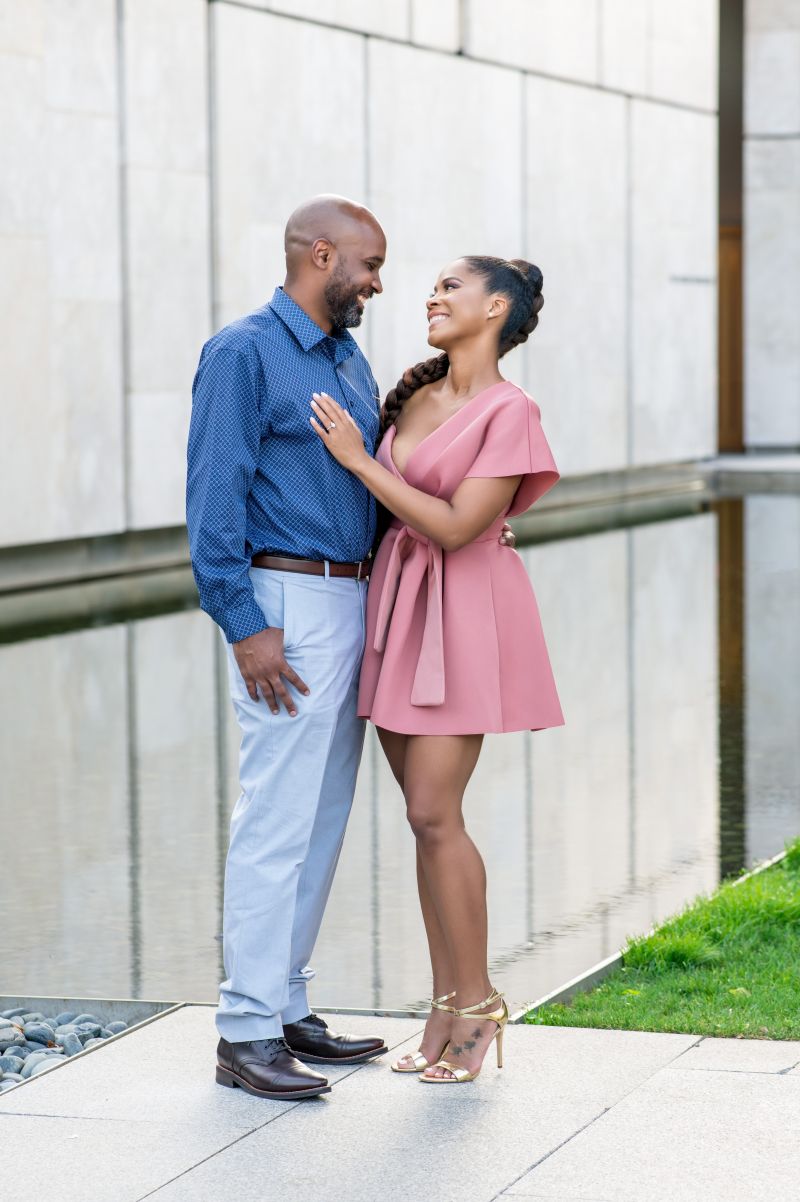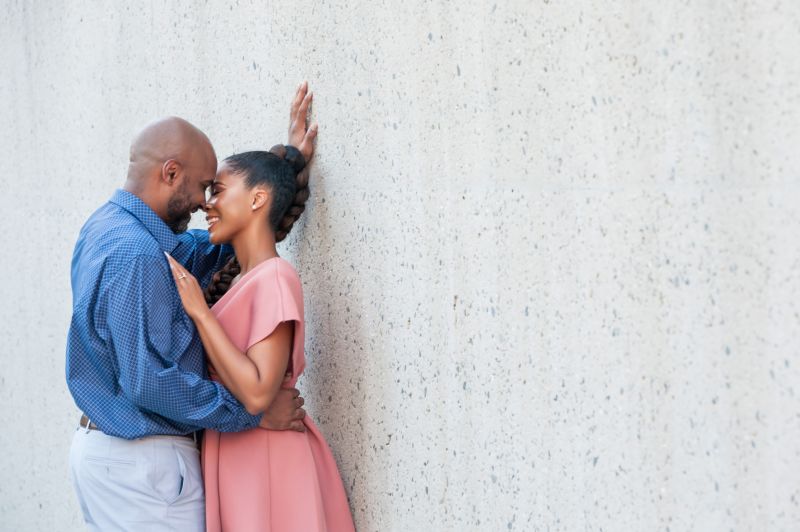 Engagement story:
Mike's birthday was coming up and Jennifer was planning a small surprise birthday party at their house for him. She recruited two of Mike's close friends to help get everyone together, but little did she know he had a surprise of his own. Unfortunately, Jennifer's plans to were ruined when COVID-19 hit a few weeks before the party and it had to be cancelled. Mike suggested they have a date night by getting a to-go meal from one of their favorite restaurants, the National Mall. While setting up their food, Jennifer turned around and saw a flood of familiar faces rushing towards her. Before she could make sense of what was going on, she turned around to find Mike on one knee. Here it was, his birthday, and he had been planning to propose the whole time! Mike even made sure that Jennifer's family were able to participate in the moment via Zoom from a friend's phone.
For the Groom:
I always knew I wanted the moment to be a complete surprise and not a moment she might suspect like a holiday or her birthday. COVID really tried to cramp our style but I was determined! Friends and family are very important to us both so I wanted to make sure they were included. I thought about just having something at the house and keeping it to less than 10 people but that was doing a lot given the pandemic. The Monuments have always been special to us and we would go there a lot when we first started dating so it seemed like the perfect full-circle moment. It was my birthday, but I knew the best gift I could receive was us spending the rest of our lives together.
What makes your love special?
Him: The willingness to be selfless for the good of the relationship.
Her: From the moment we met, we had this connection that just felt easy, organic, genuine. There has been great communication, consistency, unwavering support, unconditional love, and millions of laughs. Our relationship is rooted in a deep and honest friendship and that foundation has been key. He's the first person I want to run to with good news, and the first person I want to turn to when I encounter a struggle. He's my best friend.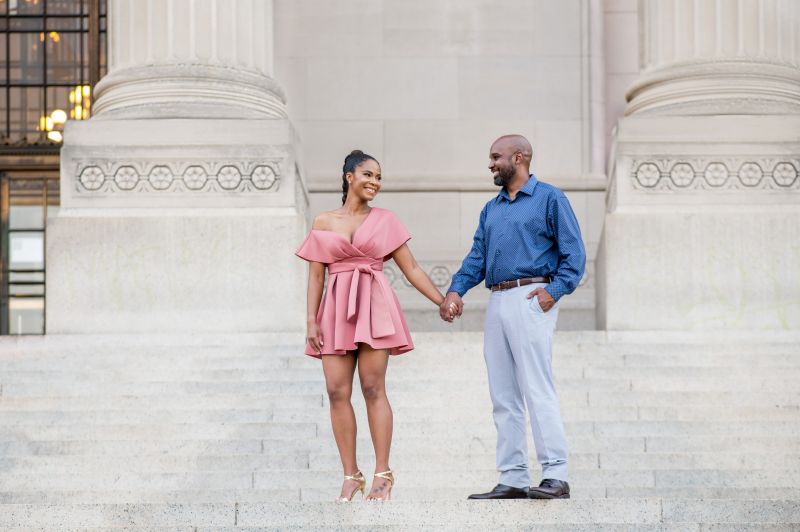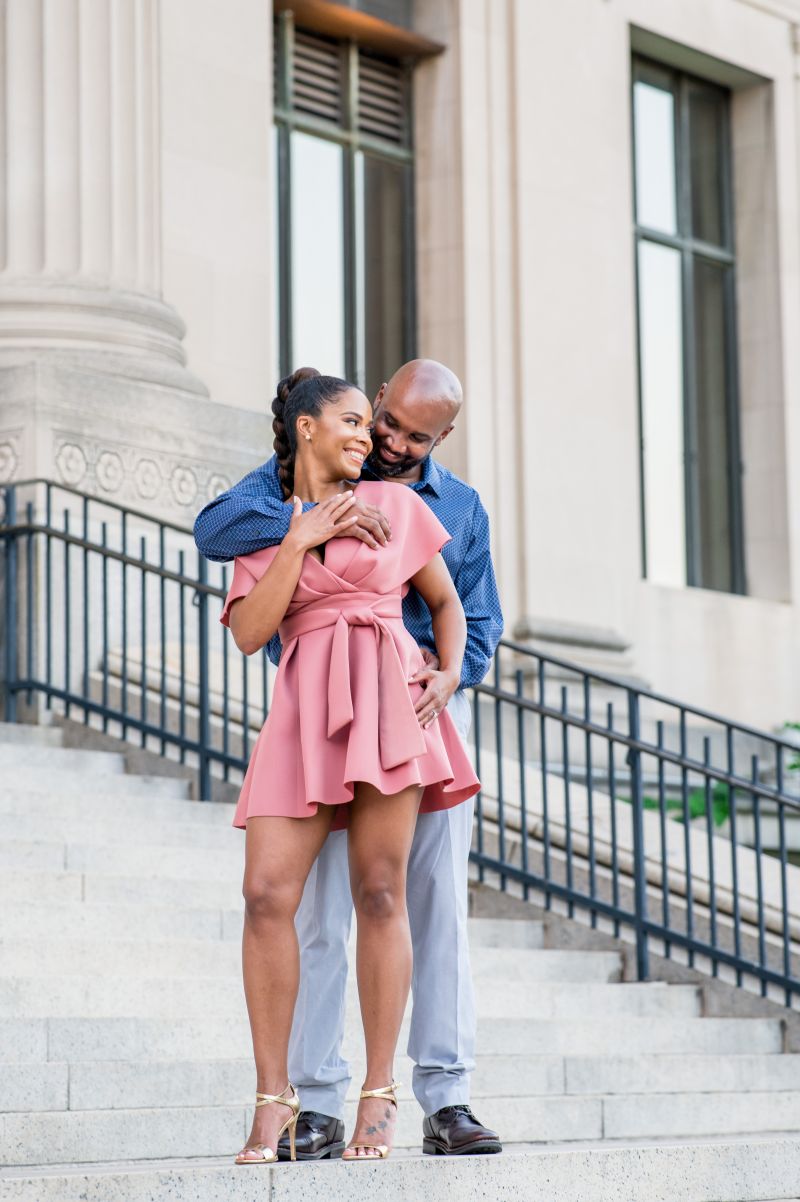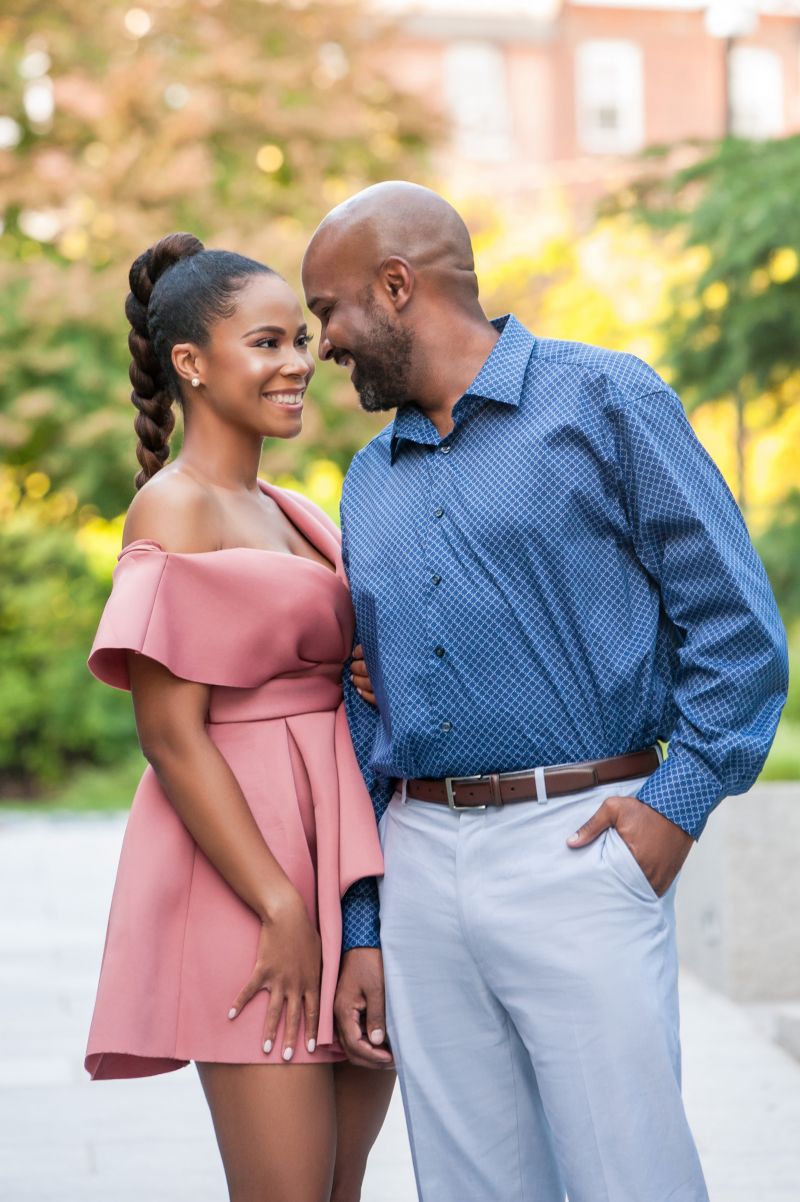 What was the theme of your shoot?
Our wedding colors are navy blue and dusty rose and we wanted to incorporate that into our shoot. Our main concern was making sure our love and personalities were captured, and we knew our photographer, Sheronda would do just that.
Were there any memorable moments during the shoot?
We had a ball! Neither of us had done a professional photo shoot before so there were some nerves, but we had so much fun taking direction from our photographer, Sheronda and her husband, Derrick. They made us laugh and feel relaxed. Getting ready for the shoot was a lot of fun also. Mike selected his outfit, my cousin helped me pick out my dress, and I did my own hair and nails. Getting my make-up done by Robin was a lot of fun. She really made me feel glamorous.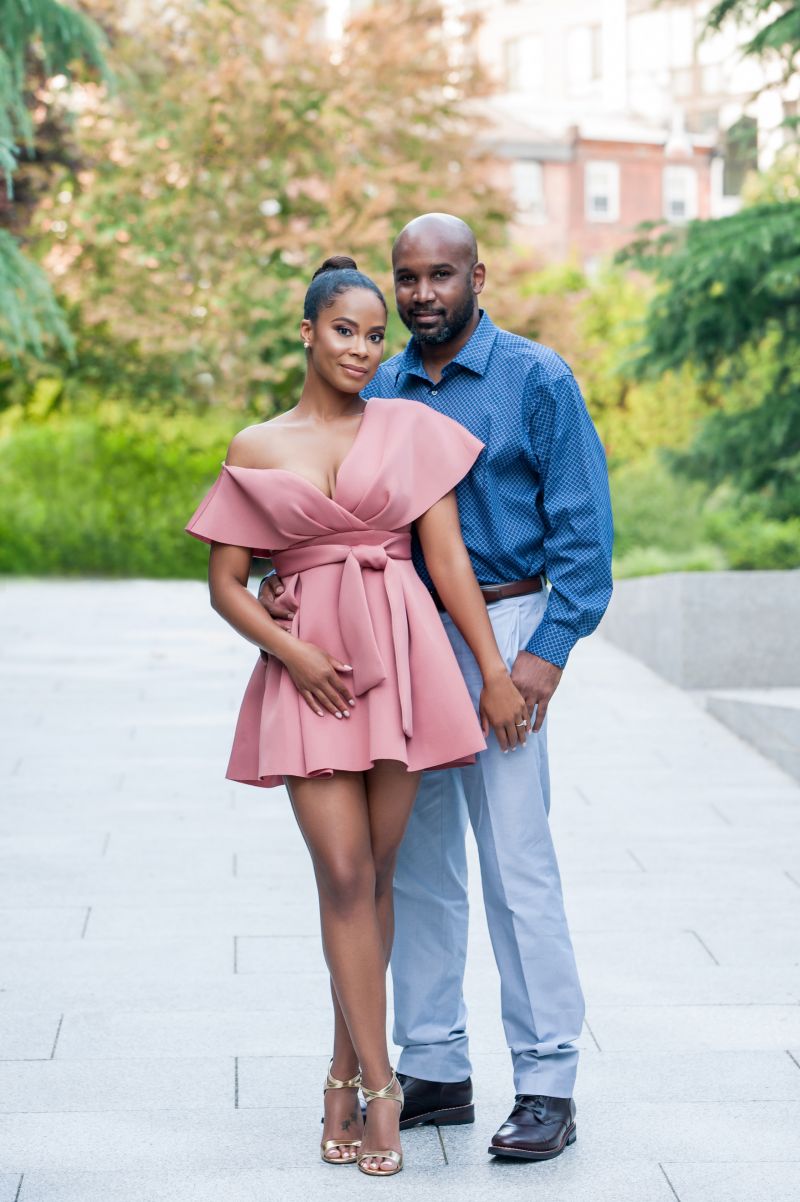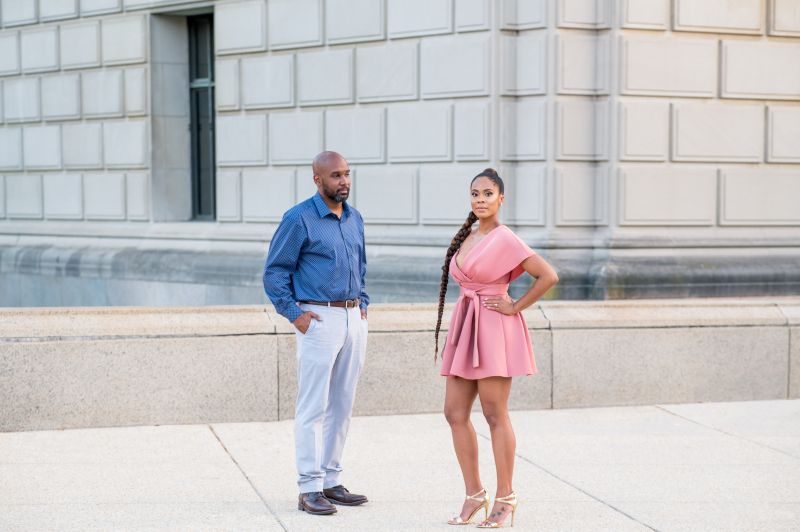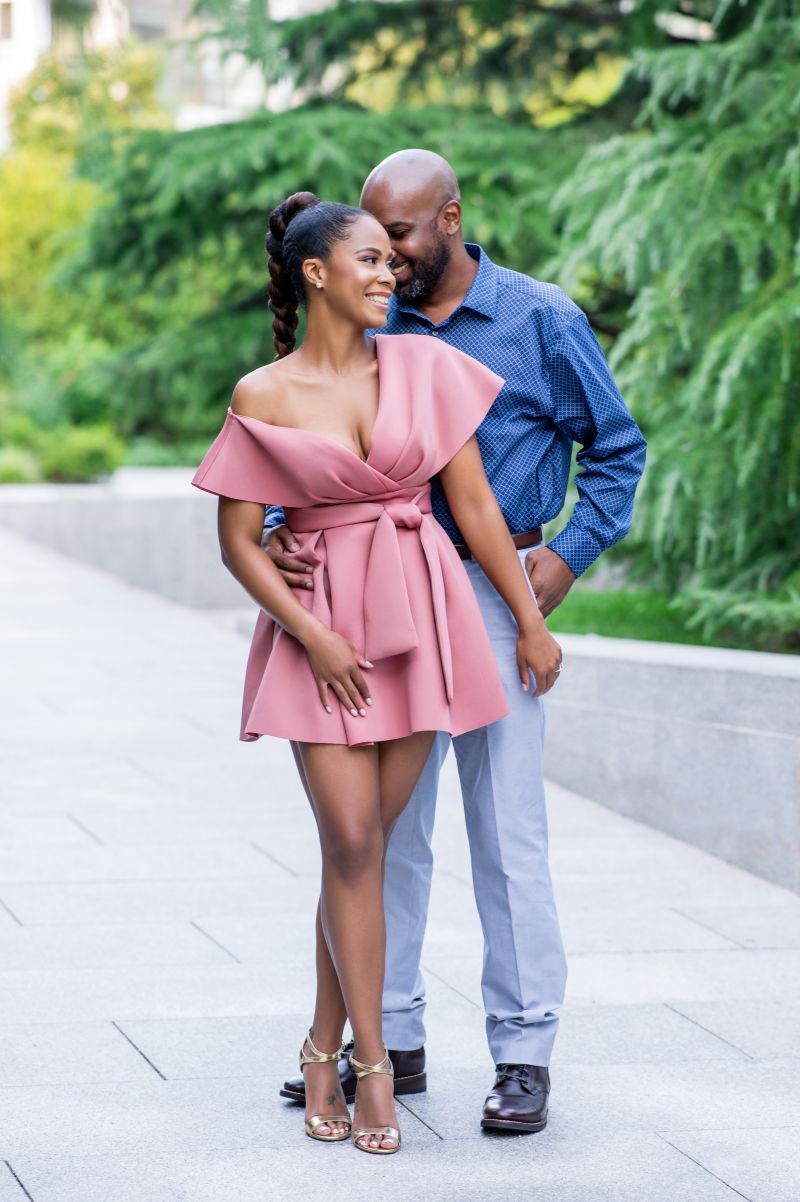 What are you most looking forward to about your wedding?
I feel so blessed to be marrying Mike- I'm most excited to marry my homie, lover, friend and become Mrs. Hunter! This year has been such an exercise in gratitude and appreciation. I do not take anything for granted. Having a wedding is exciting but we're both very aware that it's the marriage that's most important. Planning has been challenging given the uncertainty of the times we're in, but I know that it will be a wonderful celebration of our continued life together surrounded by our family and friends.
Have you started planning your wedding?
Yes, we have gotten a lot of the planning done. We were toying with a few Jan/Feb dates and one of them was February 21. I simply googled the numbers 2-21 and the first thing that came up was Genesis 2:21 "So the Lord God caused the man to fall into a deep sleep. While the man slept, the Lord God took out one of the man's ribs and closed up the opening. Then the Lord God made a woman from the rib, and he brought her to the man." This was all the confirmation that we needed that February 21, 2021 was indeed our date. In addition to being surrounded by our family and friends on the big day, we're very proud that we are using all Black vendors for our extravaganza. With all that is going on in the world right now, we wanted to be intentional about our support of Black talent and Black-owned businesses.
Congratulations to the happy couple! We wish you a fruitful marriage and many years of wedded bliss!