Many of us are gearing up for summer, which means our make-up regimens will change, significantly. Look no further than the Fashion Fair Spring collection as the brand is specifically designed for women of color, and has a track record of excellence to prove it. The CEO of Johnson Publishing, Mrs. Desiree Rogers mentioned that Fashion Fair is the only cosmetic line she wears, and with good reason, her skin has an amazing natural glow. So before we dive into our CEO's exclusive one-on-one discussion, we want to make sure we share some items that will be great for you as the temperatures heat up.
This is what your skin is missing if you're not wearing Fashion Fair Cosmetics:
The Sunrise Sunset Collection: For brides that are having weddings outside the main concern is making sure your makeup stays applied. With the Sunrise Sunset Collection you can feel well equipped, and look completely flawless while saying "I do.". The compilation consists of two illumining powders, two lip lusters, and two marvelous lipsticks that are enriched with vitamins and moisturizers to soften lips.
Golden Lights Beauty Highlighter: I'm a natural girl who loves a good shimmer, and I'm sure you do too. With Spring in full bloom, and summer on it's way, it's important to be able to bask in the sun without appearing like you have a ton of makeup on. The Golden Lights Beauty Highlighter will go faultlessly with your picture-perfect spring or summer outfit. Where are we traveling for the summer (pack me in your suitcase)? I say, we go somewhere tropical and I'll bring the Golden Lights Beauty Highlighter. You're welcome!
Bold Lash Mascara: If you're looking for lightweight, yet full-effect mascara, then look no further than the Fashion Fair Bold Lash Mascara. I don't know about you, but I'm not a fan of clunky mascara that doesn't appear natural. With the Bold Lash Mascara you can rest assured that your lashes will look long yet naturally lustrous. For a night out on the town, a few extra strokes up will give you a more dramatic look that will go great with a deep smoky eye.
Now let's jump into our interview with Black Bride CEO, Mary Chatman and Johnson Publishing CEO, Desiree Rogers. The following interview took place at the Dream Project event hosted by the Egami Group in Atlanta, GA.
Desiree Rogers backstage at The Dream Project with Black Bride CEO, Mary Chatman
Mary Chatman: First, I just would like to thank you for giving us the opportunity to sit down and chat with you. My first question is, as a business executive how do you find a balance between style and professionalism?
Desiree Rogers: I think they can be one in the same, and so I don't think you have to give up one for the other. You just have to be smart about your choices. So I'm not going to wear what I would wear to the club to work all day, but I don't think you have to give up style to be professional. No longer is that the case. Women can be very professional. You can have on a pinstripe suit and an incredible pair of lavender pumps.
Mary Chatman: What's the most valuable lesson you learned from your former position at the White House as the White House Social Secretary?
Desiree Rogers: One of the most important things that I've learned is to understand when you're breaking stereotypes and being sensitive to that. If you go in thinking, "I'm just the next Social Secretary" and you're not going in thinking that I am the first African American Social Secretary. Then you're not really sensitive or cognizant to what people might be feeling or thinking. So it's very important that you try to have a perception, or at least someone telling you, "The perception is this" and helps you break those barriers. I just went in as, Desiree Rogers, and I wasn't thinking the first of this, and that would have changed some of the ways I did things. If I was more in tune with what people were thinking or imagining.
Mary Chatman: How would you say you've applied what you've learned in your new role as the CEO of Johnson Publishing Company?
Desiree Rogers: Well see, that's a whole different set-up at Johnson Publishing, because everyday is African American History day at Johnson Publishing. The key is to really getting an understanding, and I'm going to go back to how people perceive you. I'm a tall woman, and people can think maybe she can be intimidating, maybe she's not that nice, or maybe she thinks her dress is nicer than my dress. So you have to be in tune with what picture people paint of you without ever knowing you. I'm reaching out and saying, "Hi, how are you. What's your name?" Then they're like, "Oh! Oh, my goodness"
Mary Chatman: And then they're surprised.
Desiree Rogers: And I'm not surprised because I'm a friendly person. But I think it's being aware of what your aurora brings, and trying to work with that so that people feel comfortable. You get so much out of people when you just open up a little bit.
Mary Chatman: That's a great point. What do you think about the state of marriage as it stands today?
Desiree Rogers: I think that marriage is a beautiful thing, and it shouldn't be gone into lightly. You really have to think about it because I think that I know more people that are in love, but can't be married. Because they simply can't live together for whatever reason, and I think when you're young you think the two always come together. I remember this older woman saying to me when I was younger, "Oh she's just young." In response to a statement I made about love and marriage. These women were twenty years older than me and just rolled their eyes, and I didn't understand it at the time. But I do understand today that hopefully you can end up in a marriage with someone that is the love of your life and that you can be this incredible family together. You hope for that, and I think everyone tries to go into a marriage feeling that way. I think as long as you are married, it is sanctified and you really need to be with that person. If it's not going well, and I don't mean not kind of because you got to work on it. It's an investment in your life really. But if you get to a point where there's no way to reconcile, for both of you to be able to be and do and feel. You know it's a loss, but…
Mary Chatman: There's no point in being miserable. You got to be happy.
Desiree Rogers: Yes, that's what I would say.
Mary Chatman: Women of color, specifically African American women, contribute 1.6 billion a year, to the bridal industry. Would you like to see more magazines that cater to women of color?
Desiree Rogers: You know what, I would like to see women of color whether it's in magazines or online. You have to meet people where they are, so it doesn't necessarily have to be in print, but you know one of the things we're missing is hardcore editorial. Opinions are great, blogs are great, but they're someone's opinion. And I don't mean it as a "but;" however, sometimes people think it is a fact. When really it's not, it's my opinion. When I tweet, it's my opinion, and my view of the world. As oppose to Ebony magazine, it's edited. These are facts. It is what it is, and you've
got people looking over what's written, and I think there should be a happy mix of both. I think there is a way for magazines to talk about black women and different aspects of our lives. Not all of us are going to wind up being a singer, dancer, or actress. We can hope, but we might not have the talent. So there are other stories that can be told about black women outside of that, and it doesn't always have to be, "Oh, I picked myself up by my bootstraps." It's always wonderful when you have a wider range of experiences that black women are having.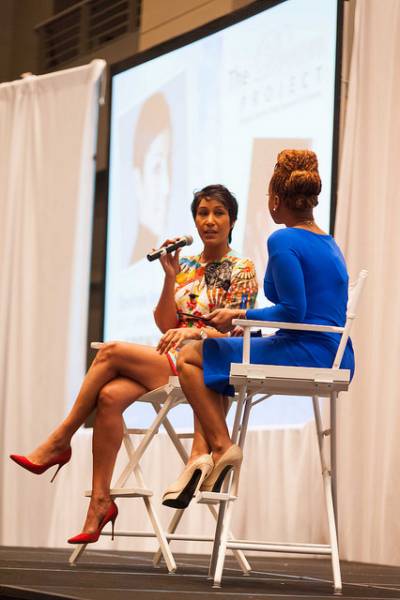 Desiree Rogers on Stage at The Dream Project with Egami Group CEO, Teneshia Jackson Warner
B