BLACK BRIDE
HONEYMOON GIVEAWAY
Your wedding day is almost here. You've spent countless hours planning your dream wedding. All you can think about now is getting through your wedding day without a glitch. You're also looking forward to getting away, being alone and enjoying each other's company. It's time for your honeymoon!
We've teamed up with New York basked travel experts Royal Destinations to offer you a FREE dream honeymoon at Secrets Playa Mujeres in Mexico! Are you planning to get married soon? Do you think that you have the best reason to share as to why you deserve to win a free honeymoon? If you answered yes to the questions, you could be the lucky couple that will get a chance to honeymoon at this luxury romantic all-inclusive golf and spa resort.
Secrets Playa Mujeres…Exclusive. Alluring. Pure.
Set along the famous white sand beaches of Playa Mujeres and a mere 10 minutes north of Cancun, the all-suite Secrets Playa Mujeres Golf & Spa Resort raises the bar on adults-only luxury, offering an Unlimited-Luxury® escape in a sublime tropical location.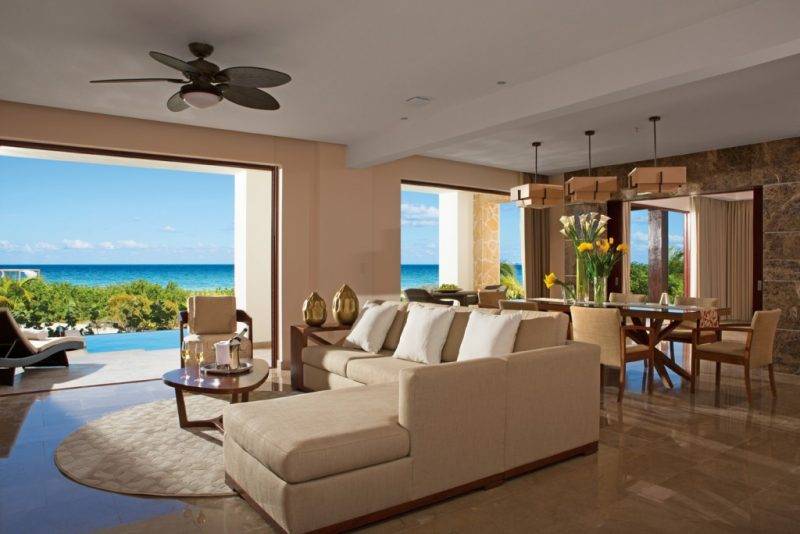 About Royal Destinations–
A full service travel agency that caters to travelers worldwide. The company specializes in romance travel such as destination weddings, honeymoons, couples trips, as well as leisure, family, and group travel. The company motto is "Always Travel Like Royalty".
The Prize:
The winner will receive a 4-day 3-night, all-inclusive stay for two, in a Junior Suite Swim Out Room at Secrets Playa Mujeres. This voucher is non-transferable, and is subject to availability at time of booking. The prize will be awarded in the form of a gift certificate, and all terms and conditions specified on the certificate shall apply, including blackout dates. Royal Destinations will provide the Prize Voucher to the Winner(s), within 2 weeks of receiving the Winner's name, and address. Airfare is not included. The approximate value of this prize is $3,000.00 USD; Based upon double occupancy. All other incidental charges are the responsibility of the certificate holder. Confirmation based upon presentation of the voucher. No cash value. Any unused portion may not be refunded. Package amenities may not be replaced by any other amenity. Other restrictions may apply. The prize will be awarded and the winner will be notified.
Rules:
1. "Like" Royal Destinations and Black Bride on Instagram at: @royaldestinations | @blackbride1998
2. Click here to purchase a copy of the latest issue of Black Bride Magazine and tell us what page the travel section starts on.
3. Submit a photo of you and your partner by email to: [email protected] or through a direct Message on our Facebook Page www.facebook.com/blackbrideUSA with a small paragraph (3-5 sentences) of why you and your mate should win (be sure to include their name). Be sure to include the page number that the Travel Section starts on in the latest issue of Black Bride Magazine.
4. Paragraphs submitted will be published as the caption for photo.
5. Both contestants must be in the photo submitted.
6. Photos will be posted onto an album on our Facebook page named "Dream Honeymoon Photo Contest"
7. The winners of this contest will be determined by how many votes/Likes they can achieve.
Entry Rules: No purchase necessary. To enter, register online at www.blackbride.com. Entries must be received by October 28, 2016. Each entry has an equal chance to win. Limit of one entry per couple. Limited to couples who are 18 years of age or older. The winning couple will be selected in drawing based on votes, which will be held by Black Bride Magazine on or before November 8, 2016.