Ashleé met Pat in sixth grade at Camp Creek Middle School in Atlanta, Georgia. They would often chat in the hallway, and even hung out a few times. After middle school, they attended separate high schools and only saw each other at social events. That all changed during Ashleé's freshman year of college when her friends convinced her to go to Miami for spring break, and she got stuck on her layover in Atlanta. She caught a ride with Pat and his friends, who helped her and her friends navigate the Miami scene. From there, Pat and Ashleé built a very solid friendship.
In 2019, the timing was perfect, and the two made their relationship official on New Year's Eve. See all of the beautiful details from their engagement session in Atlanta, Georgia captured by Neshaszda Z Photography, and previously featured in the Summer 2022 issue of Black Bride Magazine.  
Bride: Ashleé Pickett, 34, Clinical Psychologist
Groom: Pat Dixon, 35, Attorney
Place of Residence: Atlanta, Ga
Engagement Shoot Location: Swan House: Atlanta History Center
Wedding Date: April 2, 2022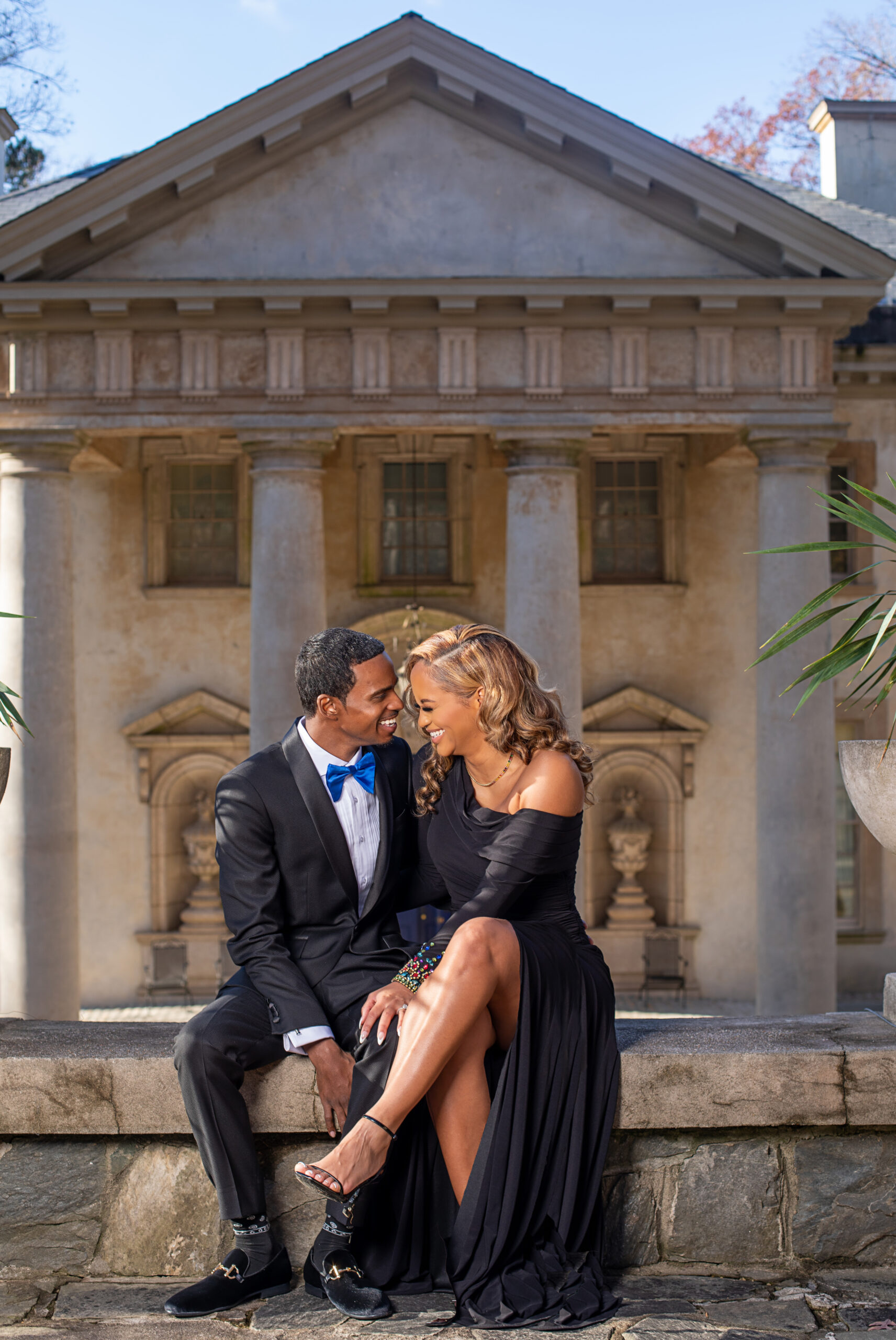 Engagement story (please tell us the story of your engagement proposal and your most memorable moments)
Pat had been planning this engagement for several weeks. He told Ashleé that he needed her to accompany him to a fundraiser event for one of his clients. This was not uncommon for them. A few days prior, Pat took Ashleé to get her nails done, and the day before he also took her shopping.
On the way to the "fundraiser", Pat said he needed to make a stop at her sister's new event space (310 Studio) to drop off a deposit for a birthday party, which was planned for the following week. When they arrived at the event space, Ashleé noticed her sister's car outside and opted to go inside to surprise her. Little did she know, she was the one in for a BIG SURPRISE.
The entire space was decorated with white roses, balloons, drapes, and giant letters that read "Marry Me." Ashleé could not believe her eyes! Once Pat was able to calm her down, he dropped on one knee and proposed.
The moment Ashleé accepted, she was greeted by 100+ family and friends who were all hiding. The moment couldn't have been more perfect. From there, they partied the night away.
Were there any memorable moments during the shoot?
Our engagement shoot was so much fun. Getting to know our photographer made us confident that she was the best fit for our wedding. We were nervous about the shoot because we were rushed for time, and the weather forecast was terrible. However, after several hours of rain, the sun came out right as we were beginning to shoot! It was perfect.
What are you most looking forward to about your wedding?
We've already experienced our big day. It was the best day of our lives!
Congratulations to the happy couple! We wish them many years of wedded bliss.
Additional Event Information
We've featured the below wedding pros, but we don't know much about them yet. Featured below? Click here to get started.